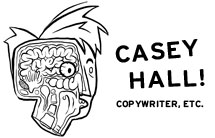 ---
700 Helps, Tippys and Reccos for a More Truly Livable Life
Book

A friend of mine was graduating, and I wanted to prepare a little something to help guide him through the rest of his life.

And a hundred tips just didn't seem grand enough.

These 700 meditations, platitudes and aphorisms were then printed one per page, to create the biggest, heaviest, most ostentatious book possible. To read this seven hundred page book takes about half an hour.

To conquer all 700 steps is much more difficult, since several are about choosing the right time to die.

Download coming soon.