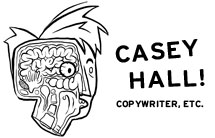 ---
TL;DR:
I'm Casey, I work professionally as a creative director / copywriter, and nonprofessionally as an illustrator. I studied web development at art school because I think computers should be more than practical tools. Took every class at UCB. Highly opinionated about cocktails and sketch comedy and Los Angeles
not
being a shithole. I think a good story beats everything else any day of the year, even Christmas.
Here's a comic I wrote and illustrated in a day that I used as a resume once, instead of just writing out my experience like a sane person would have, and which I have now done below.
Aug 2022 to now:
Helping lead teams and make small things big at agency-startup-newthing Translation. In the last year, it's been Hulu, Ally, and Crunch (the bar, not the gym).
Mar 2021 to Aug 2022:
Joined Cartwright to do creatively audacious work, and made some friends along the way. Those friends were YouTube, Simply and Blizzard.
Sep 2017 to Mar 2021:
Sat under a palm tree at 72 and Sunny LA, drinking CBD-laced kale smoothies and working on Google, Infiniti, Pinterest, truth, new business and the occasional cocktail pop-up.
Mar 2015 to Sep 2017:
Lured to America's
first
Capital with the whiff of a biscuit and the opportunity to be part of the team at Martin leading global campaigns for OREO and Chips Ahoy! and other Mondelez stuff.
Jul 2009 to Dec 2014:
Mailed Wieden+Kennedy an envelope full of toys, games and candy (and a little swatch of whiskey ice cream wallpaper) and ended up in their advertising school, WK12. Spent the next few years in the Portland and Shanghai offices, doing strange social things and big brand work for Dodge, Coke, Nike, Target, Facebook and more.
Fall 2008 to Spring 2009:
Racked up a hell of a lot of debt going to the Art Institute to learn about Youtube in their Web Development and Interactive Media program. Most important lesson learned: art school is depressing.
Fall 2008 to Fall 2008:
Thought I would be a chef. Enrolled in culinary school for one day, left after the first class where we were taught that lemon tastes 'lemony' and that spice tastes 'spicy'. Got a job as a barista at a restaurant, and was fired for spending too much time working as a barista instead of in the kitchen.
Pre-2008:
I don't really remember much of this. I think I went to Sea-World once.