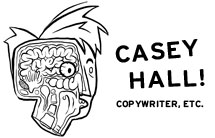 ---
TL;DR:
I'm Casey, I work professionally as a copywriter and nonprofessionally as an illustrator. I studied web development at art school because I think computers should be more than practical tools. I think a good story beats everything else any day of the year, even Christmas.
March 2015 to Now:
Lured to America's
first
Capital with the whiff of a biscuit and the opportunity to be part of the team leading global campaigns for OREO and Chips Ahoy! and other Mondelez products.
January 2013 to Mar 2015:
Two years as a laowai in the W+K
上海
office, learning what makes China move, and trying to disrupt a brand new advertising market for Nike, Tiffany, Disney, Levi's, Tiger beer, Jeep and COFCO, the government's friendly yet terrifying food monopoly.
Summer 2010 to December 2012:
Raised a real ruckus at Wieden+Kennedy Portland, worked with some amazing people to do some amazing work on Target, Dodge, Coke, the American Indian College Fund and Facebook.
Summer 2009 to Summer 2010:
Mailed Wieden+Kennedy an envelope full of toys, games and candy (and a little swatch of whiskey ice cream wallpaper) and ended up in their advertising school, WK12. Found the thing that I could do forever. Trying to get into trouble for a living.
Fall 2008 to Spring 2009:
Racked up a hell of a lot of debt going to the Art Institute to learn about Youtube in their Web Development and Interactive Media program. Most important lesson learned: art school is depressing.
Winter 2008 to Fall 2008
:
Thought I would be a chef. Enrolled in culinary school for one day, left after the first class where we were taught that lemon tastes 'lemony' and that spice tastes 'spicy'. Got a job as a barista at a restaurant, and was fired for spending too much time working as a barista instead of in the kitchen.
Spring 2006 to Winter 2008:
Freelance copywriter and web designer / developer. Part of my job included writing 500 words about 18 different styles of window treatments. Every month.
Fall 2004 to Spring 2006
:
Copywriter, catalog designer, studio artist and photographer for a small time licensed entertainment merchandise retailer. Let go after management sank all the company's money into a light-based online pyramid scheme.
Summer 2002 to Fall 2004
:
Graduated high school early, spent two years growing the biggest beard in the world.
Fall 1983 to Summer 2002
:
Uh, I don't really remember much of this. I don't think anything important happened. I went to Sea World once.