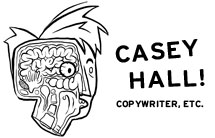 ---
You can email me any time day or night 24/7 at
casey@thecaseyhall.com
I have a pretty confounding relationship with social networking these days.
There is some real ridiculous shit on my
Instagram
.
I have been published in two books about Twitter (RIP). You can read my tweets for free
@cluckcluckers
I am one of 25 professionals named Casey Hall on
LinkedIn
.