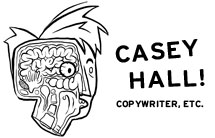 ---
the Real World Search Engine
Film - Social - Experiential - Print

Everyone knows the world wide web is full of amazing things.

We wanted to show America that the world wide world is full of amazing things too.

This campaign was designed to drive people from their homes and give them a reason to search out the world around them. Three real, free cars were hidden in America, and the clues were hidden in our TV spots. If you were the first person to go out into the world and find the car, it was yours.

We extended the campaign by highlighting unique opportunities across America, and incentivizing people to seek them out.